Get to know the speaker!
Cheak Hong Ian, Lead Consultant and Trainer, Council Consulting
Cheak Hong Ian leads Council Consulting, a digital marketing training consultancy that helps companies build sustainable, scalable online ecosystems to reach their audiences with useful, engaging and decision-making content, anytime and anywhere.
A Mass Communication graduate
ACTA certified trainer with 10 years of experience in writing and digital marketing
Cheak's clients range from SMEs to MNCs, including brands like Emerson, Bata, Julie's Biscuits, NCS, The Golden Duck, Trinity Medical and Singapore Media Academy
He works closely with upper to top level management to initiate campaigns reaching millions of people within Singapore and throughout the Asia Pacific region, while training their employees to sustain and grow these initiatives
What you will learn during the talk?
A Brand's Voice (Apple & SIA Girl Case Study)
Building a Brand Persona – Herschel Vs GoPro (Activity)
Digital Marketing & The Buying Cycle
Intro to Display Advertising & Search Engine Marketing (Lecture & Google Trends game)
Intro to Remarketing, Websites, Content (Lecture)
Intro to eCommerce Websites, Online Coupons (Lecture)
Intro to Social Media Marketing, Email Marketing & Apps (Lecture)
Plan digital marketing strategy (Activity)
Understanding Digital Marketing Statistics (Lecture)
About FROM.IDEA.TO.STARTUP :
SUSS partnered with Alibaba Cloud in 2017 to provide students with myriads of opportunities to transform their passion and ideas into a successful business plan. We conduct a series of workshops, overseas programmes and networking sessions with mentors to share their industrial knowledge. We also create opportunities for students to pitch their ideas to potential investors and gain funding for their start up .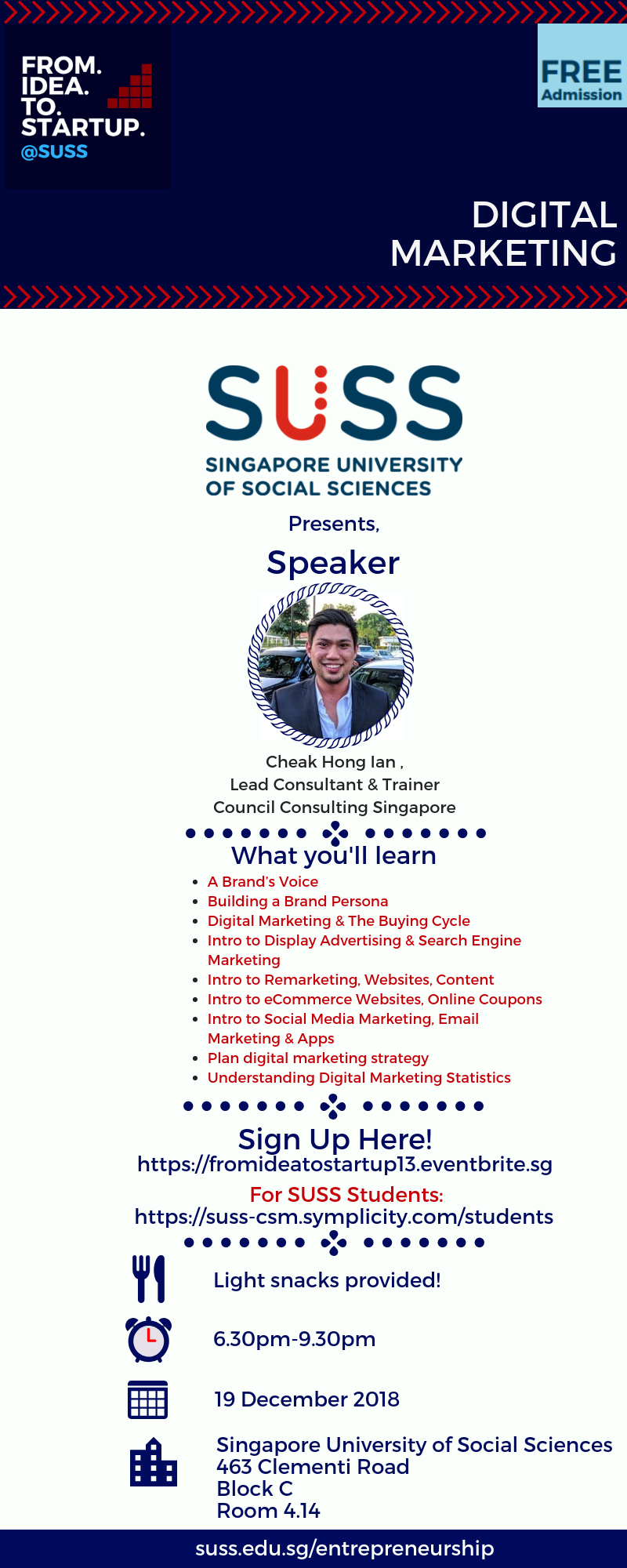 Date : 19 December 2018
Time: 6.30pm-9.30pm
Venue: 463 Clementi Road, 599494, Block C, Level 4, Room 14
Check out our upcoming events below!